— Roman Connections —
Events
Alumni of Color Chicago Gathering
On March 11, alumni of color gathered at Eleven | Eleven Chicago, joined by Randall Dunn and Eleannor Maajid '97, Latin's Director of Diversity, Equity and Inclusion. Little did we know that the next morning Randall would announce the end of in-person classes and the city would begin to shift into pandemic mode.
On March 31, we hosted our first virtual alumni gathering, featuring retired athletic director and movie aficionado Coach Tom Bower. Bower shared his favorite movie recommendations for sheltering in place, including his favorite movie of all time (Chinatown) and favorite non-Hollywood movie endings (spoiler alert) and more! Missed the chat? Watch the recording now – grab a pen; you'll want to take notes!
Eleannor Maajid '97, director of diversity, equity and inclusion, hosted a series of virtual office hours for young alumni in April. Mr. Dunn even crashed the party and joined in on the conversation!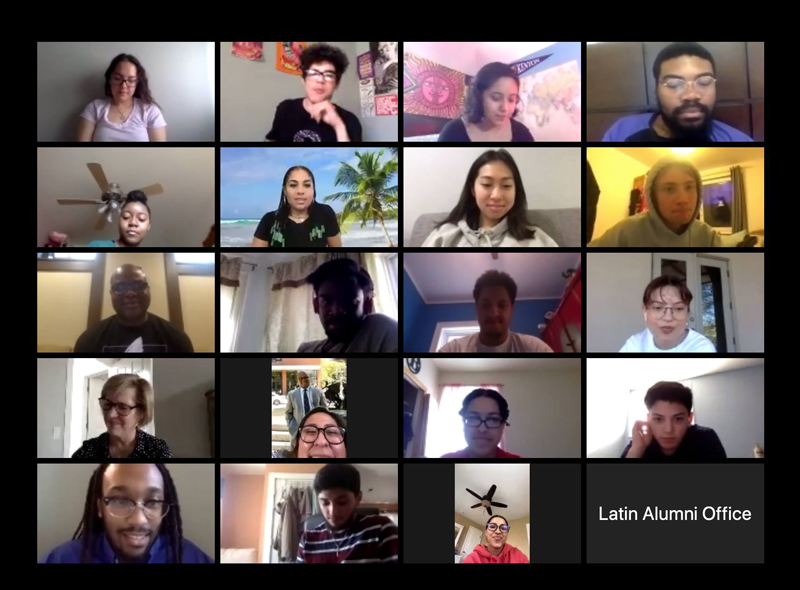 On April 13, the Zoom fun continued with History Department faculty member and freshman/sophomore dean Bridget Hennessy's cooking session! Joined by her son, affectionately known to students as Baby William, "BHen" and Baby William showed us how to make monster cookies while providing some much needed heart-warming conversation for the soul.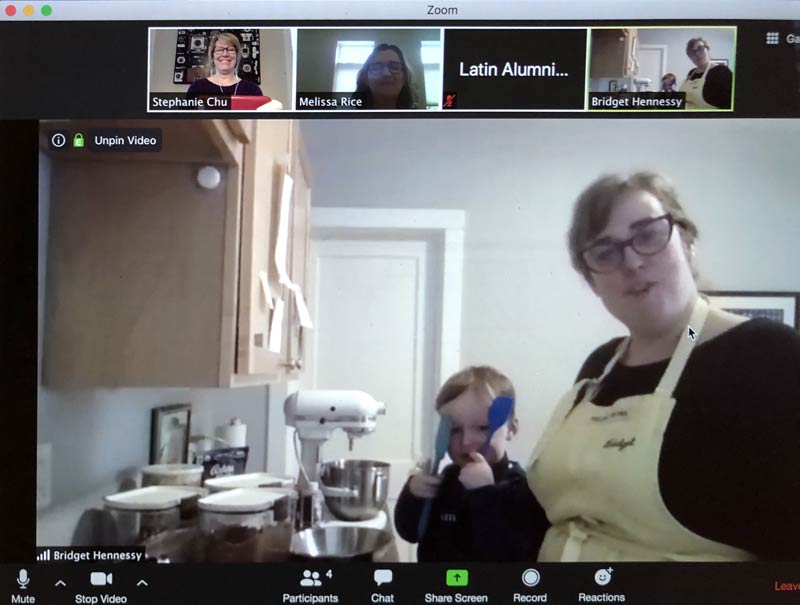 On April 27, retired faculty member and theatre arts designer Ken Bowen took us on a boat building journey! Ken shared videos from his boat building Project Weeks and discussed how building a boat, even a model boat, incorporates all elements of STEAM. Check out Ken's blog, where you can learn more. Missed the chat? View the recording now!
Mike McCarthy '69 took us on a rock 'n' roll journey during his Rockin' Romans Zoom chat on May 6. Mike shared some of his favorite concert moments from the more than 300 concerts he's attended! Some of his most cherished memories are from his long-time friendship with musician Todd Rundgren. Fellow alumni on the call also shared their concert tales, including one who partied with The Beatles in 1965! But what is revealed during the Zoom call, stays on the Zoom call.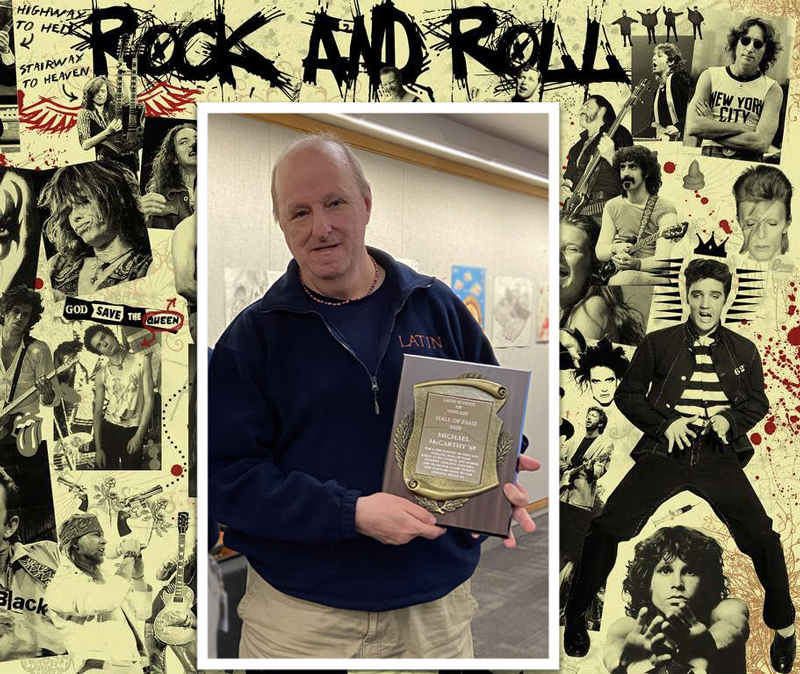 On May 14, the dynamic retired teaching duo of Shelley Addison and Vicki Kendall offered up easily replicated, creative activities to keep 4- to 6-year-olds busy while sheltering in place. With more than 60 years of teaching experience between them, Shelley and Vicki gave us thoughtful tips we'll remember for years to come!
Retired Performing Arts Department Chair and Instrumental Music Director Mike Teolis joined us May 21 for a trip down memory lane as he shared tales from his earliest days at Latin, traveling abroad with the school band, composing the beloved fight song, "Oh Go You Romans," and more!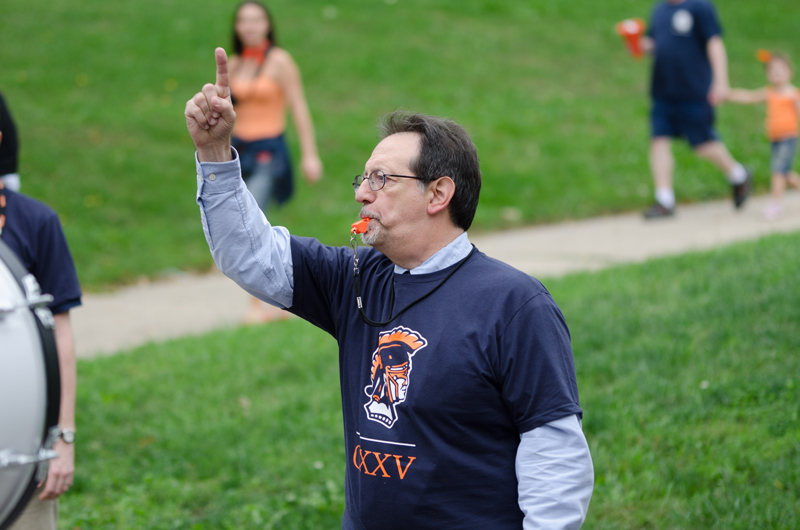 On April 16, Alumni throughout the world honored their Latin roots by celebrating National Latin Day (NLD). Alumni proudly wore their orange and blue, posted photos online of their Latin gear and memorabilia; connected with each other via email, video chats and phone calls; participated in social media challenges and Latin trivia; and joined us in our first ever National Latin Day Bingo! View Alumni Board President Jenny Cizner's '95 National Latin Day greeting.
That afternoon, more than 30 alumni joined us for our NLD Zoom chat, which featured an Alumni Association Board Director Ali Pohn '75 in conversation with middle school dean and former field hockey coach Renie Dunn-Finch. Renie shared wisdom and plenty of great stories from her 35+ years at Latin! #nationallatinday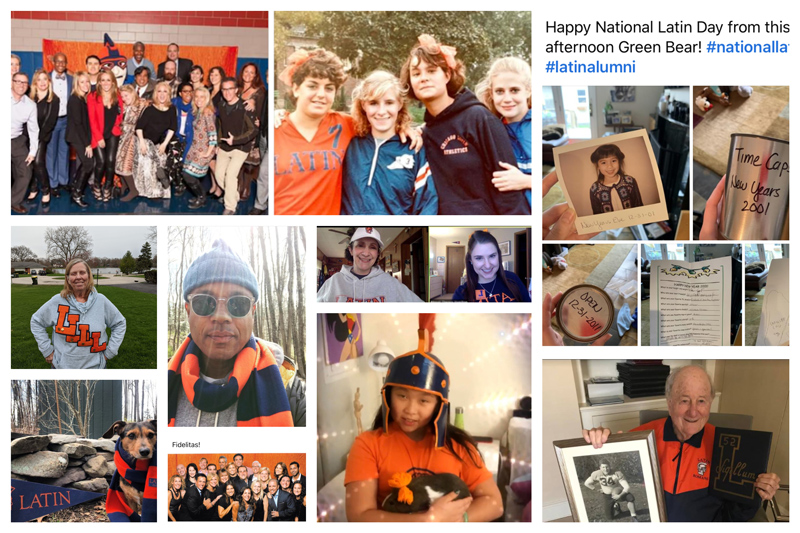 On June 16, our alumni leadership–including class reps, reunion planners, past and present Alumni Board presidents, current alumni board members, 1888 Society members, leadership donors and 10+ year consecutive donors–joined us virtually for the annual Leadership Salon. For the first time ever, alumni leaders across the globe were able to come together via video conference as Alumni Association Board President Jenny Cizner '95 and Head of School Randall Dunn shared insights about the year ahead and updates regarding remote learning and working at Latin.
Homecoming & Reunion Weekend


2020

2021!
Milestone classes ending in 0 and 5,
your reunion celebration has been postponed to
October 1–3, 2021
So change the date on your calendar and get ready for an epic celebration with the 1s and 6s. Show those younger alums how reunions are done!